As one of the biggest professional social networking site on the internet today (over 300 million users), LinkedIn is regarded as an important platform to connect, search for like-minded professionals and find one's dream job. Previously underestimated, LinkedIn is today considered as a powerful tool to showcase one's professional prowess to potential recruiters. It is no wonder that new users are creating their profiles on LinkedIn every day to start off their professional journey.
All of us want to be hired and employed by top-notch businesses to utilize our full potential and grow professionally and personally. As a search tool for job providers and job seekers, it is important for us not just to have a profile on LinkedIn, but also for the profile to be professionally enticing so as to market ourselves effectively in the corporate domain. To achieve this, one can either hire a professional writer to enhance and update the profile, or do so by themselves.
In this article, we will explore how one can create/update their LinkedIn profile quickly, without much effort, on their own.
---
Creating an account on LinkedIn
For a novice netizen wishing to create an account on LinkedIn, here's a LinkedIn 101.
Go to LinkedIn's homepage. It looks somewhat like this: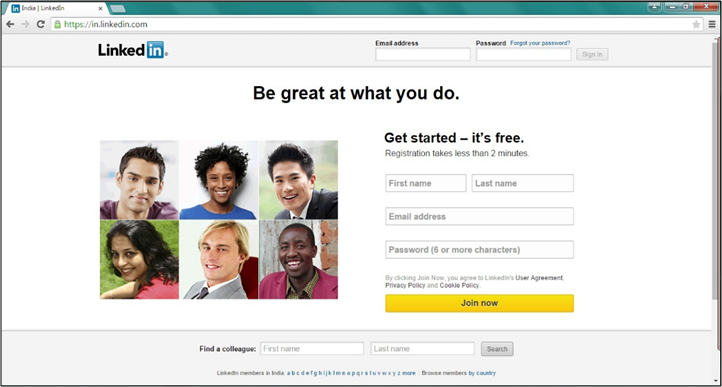 To get registered with LinkedIn, fill in your details – your name, email address, and a password of your choice, and click the "Join Now" button after completion. Thereafter, LinkedIn will guide you through the entire process of account creation. The next screen that ensues will look somewhat like this: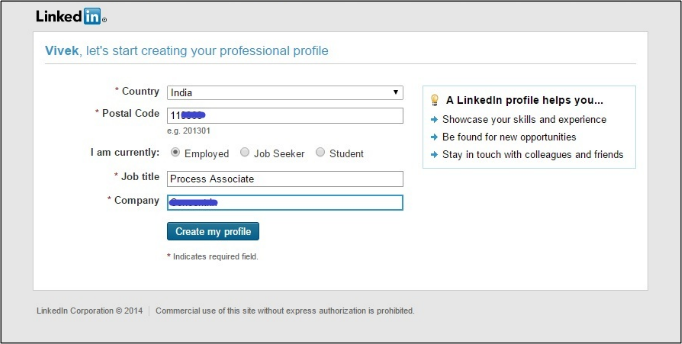 After the registration, LinkedIn will ask you to fill in your basic professional details. These include your location, your job status, and, if you are a working professional, your current job details. Fill in the details as shown in the image.
Once you click on "Create my profile", LinkedIn will ask for a mail confirmation to ensure that the user is creating an authentic profile. Sign in to your mail ID to allow LinkedIn to confirm the account. After the confirmation, LinkedIn will ask for permission to manage your contacts, i.e., import your contacts to your profile. This is important as a profile with 0 connections will not attract attention from recruiters; also being a profesisonal network it makes no sense to stay alone 🙂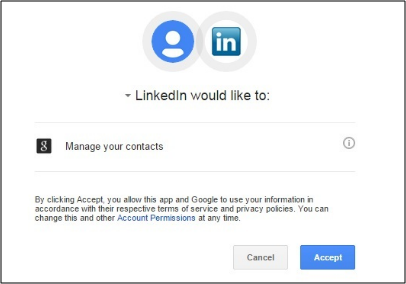 Once you click on "Accept", LinkedIn will import your contacts and ask you to send an invite to them to join you on LinkedIn. You can either send the invite, or you can choose to skip this step. Once you send an invite/skip the step, LinkedIn will ask you to choose the type of account you wish to continue with as a user. You can either choose a Basic Account, or you can choose to be a Premium Account holder by paying a nominal subscription fee, whereas the Basic Account is free for all users. The Premium Account allows users to make use of LinkedIn's enhanced features in job and jobseeker search.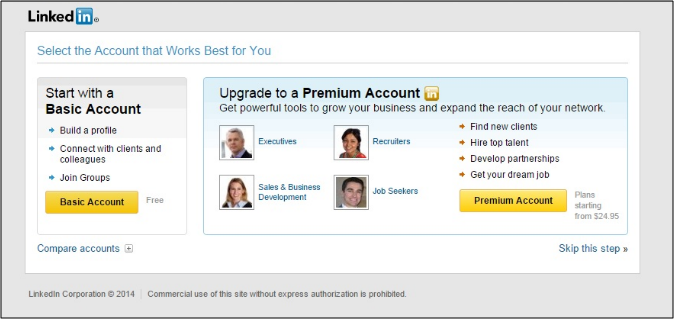 Customizing your new LinkedIn account
After you select an account, LinkedIn will start a series of steps to customise your profile. The first step will begin with editing your basic profile information, which begins with adding people you know on LinkedIn. After this step, LinkedIn will ask you to fill in a few of your personal details. You can choose to fill them up, or skip the details to add later. Once you complete/skip the section, LinkedIn will direct you to your profile's homepage. You can now start using LinkedIn to post/apply for jobs and update your professional details as per your convenience.
That's all for now. Keep waiting for this space, as we will be talking about how to update details in your LinkedIn profile once you have created it, in the next article.
---