If you live in the US or are applying to the US / Canadian markets, you need to be very attentive to the format of the resume that you share. A lot of US companies still have not upgraded to modern day formats and prefer the old-style resumes (Arial, font size 10+, without boxes, light sized doc) and if your resume format differs from this, your resume might stand a good chance of getting rejected.
On these lines, we designed a very simple, yet very effective resume for these markets. We have stuck to the use of Arial font in the resume but ensured that the file looks good to the eye. The positioning of content has been taken care of in line with how US recruiters view resumes. Keywords have been added appropriately and the language kept simple to ensure the recruiter does not feel that the resume has been written by someone else and not you!
Below we highlight the format in the form of some major guidelines. 
---
1. Headline

The title of your resume should specifically target the role you are expecting to acquire. It should help the recruiter to immediately identify the type of designation that would best suit your aptitudes. Most recruiters/hiring managers may spend only 5-30 seconds per resume, your title should be unique to you and the role you want to pursue. The hiring manager should be persuaded to take an immediate action. The main thing they would like to know is your expertise; you can use your current or dream job title.
2. Summary

Most resumes lack a strong summary statement. Summarizing your extensive career in a few sentences is the most difficult part. It is an overall snapshot of your major strengths and supporting skills. A good & precise summary helps you to brand yourself.
Important points to keep in mind while writing a summary:
The skills that you mostly use / enjoy using
Your accomplishments that can best illustrate your abilities
The issues, topics or areas you are most passionate about, professionally
The most valued aspect in your target industry
Experiences, skills, and characteristics suitable for your target job
Your most impactful, key selling points
The intersection point of what you want and what your target industry needs, etc.
3. Major Accomplishments / Highlights
A review of achievements / accomplishments throughout your work history is equally important as your summary. Accomplishments / highlights will help in exhibiting yourself as someone who can perform the tasks in a much better way than other candidates.
You should write an accomplishment statement depending on the job and the skills you want to highlight. Let it be anything such as making a highly appreciable process improvement, achieving a million dollar in sales in a year, or receiving a particular award for an outstanding performance.

Make sure that you reflect the important skills required for the job you are applying!
4. Areas of Expertise

Nowadays, majority of the companies use resume database systems with built-in search engines that can search thousands of resumes in just a few seconds using keywords. The keywords related to management skills, technical expertise, trainings, etc. in resumes give important information about the job seekers. The resumes are then selected and ranked on the basis of number of keywords that are related to the job opening. Thus, you get an interview call that you are expecting.
5. Professional Experience
Professional experience section showcases your entire career path.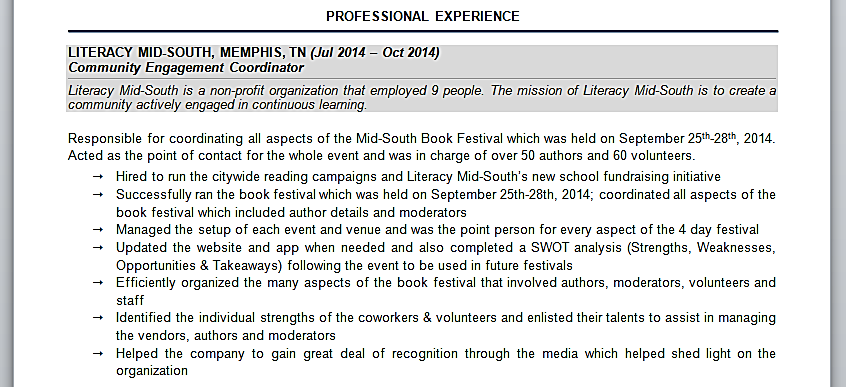 Provide your job information in order of importance to the reader. Write it according to the preference, i.e., the most important section is your Title/Position and the Company Name. Therefore, you can prefer this order – Name of Employer, City/State of Employer, Dates of Employment, & Title/Position. You should list your professional experience in reverse chronological order.
While explaining the job responsibilities, a brief paragraph about the company-description can be given. Give importance to major contributions when preparing your resume; accomplishments / major contributions can be of key importance to prospective employers. Consider bullet-style pointers to make your resume as reader-friendly as possible. Ensure grammatical and tense correctness while writing responsibility areas for each of the companies; for e.g. a thumb rule to use is to write the present job details in present tense while the past job details in past tense.
Never lie on your resume. Emphasize more on transferable skills, mainly if you have less experience or expect to change career. Use quantities as much as possible like the number of people you supervised, percentage of sales increased, amount of company money saved, etc.
If you are a candidate with 10+ years of experience, then it is not necessary to give more emphasis on your older job details. You can add those jobs, but include only the important details such as title, employer, location and dates of employment (provide dates only if you want to). All these information can be given under the heading 'Previous Employment History'.

6. Education / Credentials

Adding your education details can be an advantage. With an increasing number of individuals competing for top executive positions, as well as for lower level positions, analyzing their academic credentials can help the job applicants to stand out.
Majority of employment opportunities are available on the basis of the great scholastic records and the higher qualified degrees. Sometimes you need to get a particular degree for getting a job in a specific field. To work as a doctor, you need a medical degree and to become an engineer, you need an engineering degree. In some cases, an additional qualification may even help you in attaining a highly paid job.
7. Professional Development (Courses, Certificates, Trainings, etc.)

From the employers' point of view, completing an educational program / training or holding a certification helps the job seeker to prove that he/she has what it takes to focus on a particular subject or industry and develop within it. Moreover, it helps to show the employer that the candidate has a desire to advance as a professional and will likely put the same passion forth in his or her career.
An academic degree being pursued currently or additional professional development courses, certificates and trainings convince the prospective employer that a particular job seeker is worth investing in, as it can reveal that the candidate has been set apart from their peers by an academic authority.
8. Technical Skills
Technology is an inevitable part in today's high-tech world!

Another good way to indicate that you have additional skills is to include a section named 'Technical Skills'. Almost all jobs require basic computer/IT skills such as MS Word, Excel or basic accounting tools, etc. Adding this section can create a good impression on the employer that if required, you can leverage a computer to fulfill your daily responsibilities.
On the other hand, it may prove extremely useful when it comes to a candidate from a technical background or for someone who works in the technical sector.If you are trying to pursue a career in the technical field, then you should include those technical skills or technologies that are related to the ones used by the company (where you are hoping to work) in its environment.
That's it. Happy resume writing. If you feel we have missed out any point, please feel free to comment below.
---