Here is the truth: most of the resumes are not even considered for an interview. Most of the recruiters don't even spend more than 7 seconds on your resume. So if you want your resume to stand out among all the candidates then, creating an infographic resume is a very good option.
What Is An Infographic Resume?
An infographic resume uses graphics and illustrations to present key information about your work experience and capabilities. This makes your resume stand out and makes an impact on the recruiter. It benefits you to have graphics with all your information because it makes the recruiter spend more time on your resume and your chance increases for the interview round.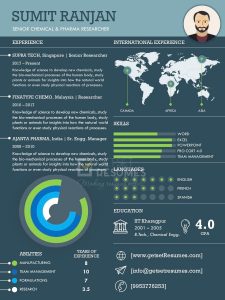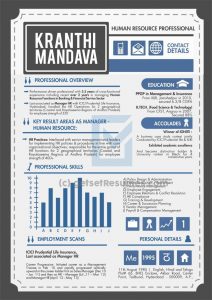 How To Create An Infographic Resume?
1. Structure
Start by making the structure and noting down the essential sections you want to mention in your resume. Going old-school and drawing it on paper will help.
These are some sections that are required:
Header

: Your picture(optional), your details like name, contact number, email address, and a brief intro about you.

Key Areas Of Expertise

: Note your expertise and properly add it to your resume. These should mainly be your strengths. Note that you should add the expertise that is also related to the job you applied for.

Experience

: List down your experience of the previous places you worked at this helps a lot.

Achievements

: Note down your achievements from your previous works which are strong enough to make an impact on the recruiters.

Languages and Other Skills

: Jot down your skills and then add the skills to your resume that are required for the job. Language skills can also be mentioned.

Quotation

: In the end, write down a quote that describes your personality.
 2. Choose A Template And Start Designing
If you don't know how to design your resume on blank paper then you can use the templates that are available online on different sites and use them to design your resume. You can also take help from professional resume writing services in India.
3. Making The Design Yours
Starting with a template is a good idea but it is not always according to the job you are applying for, so you should start customizing it. Your design plays an important role in your resume. If you are applying for a serious or a 9-5 job then having a resume with bright colors and patterns might have a negative impact on the minds of recruiters.
4. Having An Amazing Intro
The intro plays an important role. Nobody in the company wants to know how many places you have visited or if you want to visit one. The recruiter wants to know about you and how you are eligible for the given job so design your intro accordingly. Keep it brief and precise. Make it interesting but not funny and should have an essence of you in it.
5. Add Different Sections To Your Resume
Having sections is important because it helps the recruiter to easily check out all your details. Refer to the basic structure and then complete your resume.
6. Testing And Feedback
After completing your resume, download it in pdf or image form and send it to your relatives, friends, or family member who is in the same field you are applying for. Ask them to proofread and get their feedback and work on the feedback if they ask you to add or erase any particular point. This will make your resume more impactful and correct.
7. Download Your Resume
After completing all the corrections and your resume is completely ready download it in pdf or image form. Also, get it printed
8. Tips
Keep it simple:

Don't stuff too much information in your resume, keep it simple and precise. The details should be brief and according to the job you are applying for.

Add some personality

: Make it a bit personal by adding what you like in the form of icons or just simply writing hobbies.

Be bold

: Make it bold. It is catchy for the eyes of the recruiter.

Show, don't tell

: Instead of telling how great you are, show the recruiters by adding valid skills and experience. Make your resume creative and likable.

Put important details on the top

: Put the important details on the top this helps the recruiter easily know about your eligibility for the job.

Less is more

: The brief your resume is the more attractive it is. You must provide less but important information about yourself.

 

Make it easy to read

: Make sure it is clear and easy to read otherwise it will be put in the trash before even considering it.

Only use a few colors

: If you are using colors make sure to use only 2 or max three colors because it will look clean and attractive. The more colors you add the messier it becomes.

Prioritize key information: Your priority should be the key information you want to provide to the recruiters.
Do research: Research properly about the company you are applying for, the skills required, and the important requirements.
Look for other resumes

: Look for other resumes for inspiration and create one for yourself.

Run a grammar check

: Not just the design and structure of the resume is important, the grammar and spelling should also be correct, they also play an important role in your resume.
Some companies might not want your infographic resume so you should also have your old-school resume ready.
Conclusion
Many Resume writing services are also provided in India one should check out it and keep in mind that an infographic resume is a very good option for you to land into the interview round. Your resume's job is to make you grab the interview opportunity so keep it simple, brief and precise.
---