Being a Resume Writing firm, the obvious answer to expect from us would be 'yes'. Although it is always helpful to hire a professional to write your resume, there are other sides to this decision too. And unless you are absolutely convinced that you need a professional to write your CV, you should not pay someone to do it for you.
Let us do an interactive study of the steps involved in writing a winning resume and how a professional writer approaches the task v/s how a normal working professional does.
It all begins with your job search
The next step in the career of every professional begins with the frustrating task of looking for a job. This is the first stage where you interact with your future employer although in an indirect manner. You go through their job description, their website, read their brochures and try to learn more about the company. You then decide what the job can offer and if it is worth leaving your present job for this one. If you decide to go for it, you take your present CV and apply straightaway; who has the time to customize the resume for a job.
What does the resume writer do?
She understands the job profile, and takes a decision on what kind of a resume would suit such a JD. Remember, she has a vast experience in writing a lot of similar resumes. She then digs into her database and researches similar profiles before starting to work on your resume.
Choosing a Format
How does the average professional format her resume? By copying the format of a friend or searching for some templates on the internet, right?
What does the resume writer do?
As the writer would have done a lot of research by now, she would come up with the best format suitable for your profile. In addition, she would innovate and experiment with new titles based on all the keywords in her paraphernalia. Who knows you might come up with an entirely new format not available with anyone else!
Keywords – the most important part
What happens when you send your resume to an employer? It is scanned by a machine to weed out ineligible candidates. How does the system weed these resumes out? It parses the resume and scans all the keywords, then matches those keywords with the job profile & some hidden selection criteria not visible in the JD. CVs which do not score in this process are discarded while those who do, are selected for the next round of telephonic or face to face discussions.
Do you make sure that your resume gets scanned "into" the system everytime you apply for a job? Probably not.
What does the resume writer do?
She knows the ins and outs of keywords and selection criteria. She knows which keywords are required for a particular profile and which can be done away with. She also realizes that stuffing the resume with too many keywords might again hamper the employee's chance, so only an optimum number of keywords are included in the document. Most importantly, she makes sentences out of these keywords and makes sure it does not look like you have simply added them to the resume to gain extra points!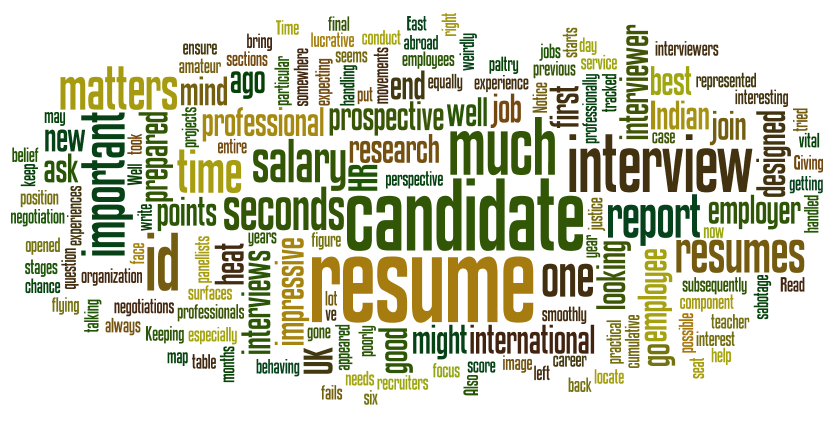 Searchable Profile
When you upload your new resume into a job portal, or when you prepare a new LinkedIn profile, do you instantly get up in search results? No. Why? Because one, you are not the only one who has updated their profile and two, your industry has about thousands of similar applicants on the same job portal so why should your profile be at the top. Most people do not have any idea how to become searchable.
What does the resume writer do?
Your resume writer knows what it takes to make your profile search engine/job portal friendly. She ensures when you update your profile, you come at the top of search results and more importantly, stay there! She updates you with the latest trends in keyword selection in your industry and makes sure that your headline stays up to date.
Moreover, she ensures that your Social Media profile is search engine friendly. So that when you look for "Sales Manager in Automotive Sector" on Google, or even your name, your LinkedIn profile comes up. How awesome is that!
Industry Knowledge & Latest Trends
There are trends which come and go through time. This liner is also applicable for writing. Whether you are a fresher or a senior level professional, if you write the resume in a format which was used by people 10 or even 5 years ago, it will only bring sorrow.
What does the resume writer do?
A professional resume writer is always well aware with the pulse of the market and what is the focus point of the employers these days in a resume so she will churn out the resume in such a manner that it looks upbeat and engaging to both the employer and you.
Objective View of yourself
Seeing oneself in an objective light is certainly difficult for many out there. There is nothing bad if you also fall in this category, as this is a human trait. If an individual himself pen downs his resume, there are great chances that he will try to pour in more and more information about himself. This extra loaded resume may appear a little crammed to the employer. A study concluded that a resume which carries too much of information is considered as bad as the one which carries too little of information. What is required is a balanced and an objective approach.
What does the resume writer do?
A professional resume writer is aware about what is considered as important and what will just add burden to the resume and can be easily dispensed with. She ensure that the she adds only the right content to the resume, not more, not less.
Cost
Cost is the biggest factor which deters people from going for a professional Resume. But ask yourself what is greater – the cost of letting go of numerous opportunities because of a poor profile OR the cost of getting a professional CV made? You know the answer. If at a meagre percentage of your monthly salary, you can get a CV which increases your chances of a new job, a higher pay and a better lifestyle, then why not go for it. Hiring a resume writer not just saves your money in the long run, but also your precious time by taking away all the pain.
The final word
There are a lot of job seekers who struggle with the thought of whether to hire a professional resume writer or simply give a detailed account of their qualifications in a plain manner on their own. While struggling with this question, just keep one thing in mind that a resume is not just a document, but it is the tool of sword through which you need to market yourself in the eyes of the prospective employers. One wrong usage of a word or a bad style of writing can certainly dissuade the prospective recruiters from even glancing through your resume. Thus diminishing the chances of you getting a job!
A professional resume writer possesses all the skills that are considered as a necessary thing to put your resume in the eyes of the prospective recruiters and portray each and every of your qualification & skill in the best light.
---