We believe that resume writing is not just an art, but also a science. It requires a lot of information and a lot of processing. What follows is a document presented in a manner that presents the uniqueness of the person behind it. We help you produce a customized resume that meets your specific job requirements and ensures that you secure interviews with ease.
Why choose our resume writing service?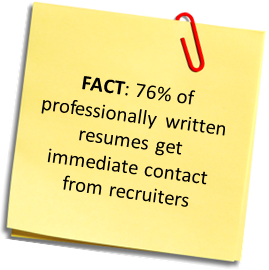 We provide top quality and on-time delivery of documents doctored to suit your job requirements. Our clients range from fresh Engineering & MBA graduates to over 30 years' experienced CEOs - all 100% satisfied! When we write your Resume, it gets transformed from a dry collection of statements to a brand new document which speaks to future employers.
Get started, Now!
Once you submit your request listing your experience and uploading your old resume, we will assign a professional resume writer to contact you within 24 hours. The writer will discuss your employment history, your specific achievements, and your career objectives before you receive the first draft of your resume within the stipulated time. You can then partner with your writer for as many iterations as you wish, until you are satisfied.
A brand new or revamped Resume with an impactful introduction and in a format absolutely suited to your experience level, that will catch the eyes of employers and hiring managers.
A Resume that is 100% complete with not one important detail missing! We'll help you add all of the missing elements.
A Resume that is optimized for keywords. So, if you upload it to job portals rest assured your profile will be among the top ones.
A Resume with easily addable sections, so that you can add any new experience or certification easily.
A 45-60 day updation guarantee, absolutely free of cost (FAQs for more details).
A 100% money back guarantee, for upto 7 days of placing your order!
Order our Resume Development pack starting at only
499 now!
Call us at +91-9953776253, if you have any queries.